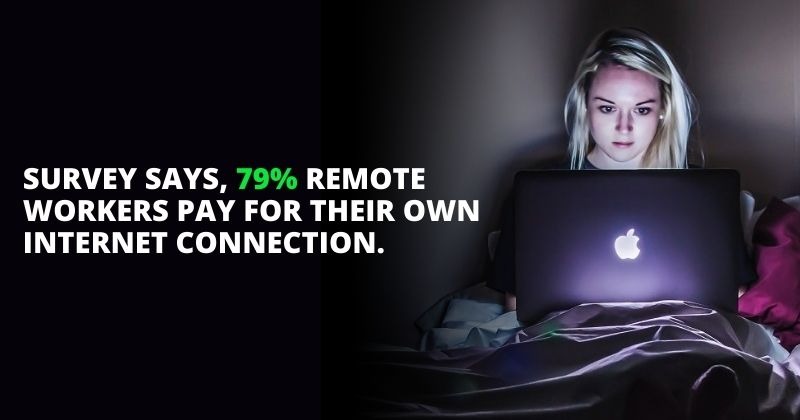 A new survey reveals that nearly 38% of people think their employers should bear the costs of Internet connectivity.
Read also: 58% would quit their job if the employer forced them to return to work, study reveals
This is according to a new study led by AppNeta, a Boston-based network performance monitoring software company that interviewed several people working from home about the challenges they face, especially when it comes to internet connectivity.
Who pays for their current Internet connection?
According to the survey, today, of all those who work from home, 79% of them pay for their own Internet connection. About 10% have their partners paying for the Internet. 5% say that their parents pay for the Internet, 3% like the others. Two percent say their government pays for the Internet and one percent charges their business for the Internet.
Should employers pay for the Internet connection?
But of that total, 38% want the company to bear the costs of the Internet, while 33% believe they should pay for it themselves. 24% think they don't really need the Internet to work from home. Three percent of people say the government should pay for it, while the remaining three percent say the owner should pay for Internet connectivity.
Also Read: Google's Remote Work Policy Allows 20% Permanent WFH Employees

Of the 38% of people who think the employer should pay the internet costs, 26% think they should pay part of the bill, 34% think they should receive a routine allowance for it. The remaining 40 percent believe they should pay the full amount of the bill.
The future of the Internet
In the future, about five to ten years, as more humans depend on internet connectivity, 25% believe there should be Wi-Fi coverage everywhere. 23% think the internet should be lower and more reliable.
Also Read: WeWork CEO Says Only Less Engaged Employees Prefer Working From Home

Up to 22% think there should at least be free Wi-Fi in public areas like parks or airports. 15 percent think it should be a utility and 14 percent think it should become more consistent with no or fewer outages.
What do you think? If you are a remote worker and work from home, should your employer also pay your electricity and internet bill? Let us know in the comments section below and keep visiting Indiatimes.com for more tech news, reviews, trends and tech impact on our new normal.