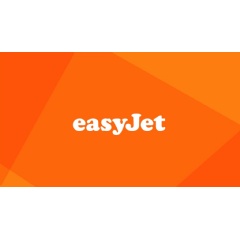 easyJet has received IATA IEnvA Level 2 certification, making it the first low-cost airline in the world to have a fully certified IATA IEnvA Environmental Management System (EMS). This follows successful IATA IEnvA Stage 1 implementation, assessment and certification earlier this year.
The IATA Environmental Assessment (IEnvA) program is a globally recognized assessment system designed to independently assess and help improve an airline's environmental performance and it is closely aligned with the international standard for the ISO 14001 environmental management system. easyJet is the first non-IATA member to participate in the process.
IEnvA is a voluntary program helping airlines to identify, manage, monitor and control their environmental issues holistically. It commits airlines to meeting their environmental obligations and continuously improving their environmental performance.
Jane Ashton, director of sustainability at easyJet, said:
"We view sustainability as a holistic issue at easyJet, ranging from mitigating our direct carbon emissions from flying to managing the wider impact of our operations.
"I am truly delighted to have achieved this first for a low-cost carrier globally, with full IATA IEnvA accreditation further demonstrating easyJet's continued commitment to continuously improving our environmental performance. "
Sebastian Mikosz, IATA Senior Vice President, Environment and Sustainability, said:
"I am particularly pleased that easyJet has partnered with IATA and trusts us to work with them to further improve their environmental management practices. easyJet's recent full IEnvA certification demonstrates a strong commitment to environmental sustainability.
[i"Environmental sustainability is an existential challenge for the entire airline industry. IATA is proud to work with its member airlines, but also non-member airlines to introduce world-class environmental management practices to the aviation [/i]industry."
At easyJet we are committed to continuously assessing and managing our impact on the environment, this includes the direct carbon emissions of flying, but also our wider environmental impact.
For example, we have already eliminated more than 36 million single-use plastic items used on our flights and we continue to ensure that any residual waste is recycled as much as possible, while always looking for more ways to take action. .
We also introduced new crew uniforms made from recycled plastic bottles. Forty-five bottles fit in each outfit – with the potential to save 2.7 million plastic bottles from ending up in landfills or the oceans over the next five years.
And, of course, we also take care of our direct carbon impact. Last year, we joined the UN-backed 'Race to Zero', committing to net zero carbon emissions by 2050 and set an interim target for improving carbon intensity. carbon emissions by 35% by 2035.
Making flying more sustainable has long been an easyJet priority – from continuous fleet renewal and efficient operations today, to proactive collaboration with industry leaders including Airbus, Rolls-Royce, GKN Aerospace, Cranfield Aerospace Solutions and Wright Electric, to accelerate the development of future zero-carbon technologies and the necessary infrastructure. For further information, please contact easyJet's press office on 01582 525252, log on to www.easyJet.com or follow @easyJet_Press
About easyJet
easyJet is Europe's leading airline offering a unique and winning combination of the best route network connecting Europe's major airports, with great fares and friendly service.
easyJet flies more of Europe's most popular routes than any other airline and carried more than 96 million passengers in 2019, including more than 16 million traveling for business. The airline has more than 300 aircraft on nearly 1,000 routes to more than 150 airports in 35 countries. Over 300 million Europeans live within an hour's drive of an easyJet airport.
easyJet aims to be a good corporate citizen, employing locally contracted people in eight countries across Europe, in full compliance with national laws and recognizing their unions. The airline supports several local charities and has partnered with UNICEF which has raised over £14million for the most vulnerable children since its inception in 2012.
The airline takes sustainability seriously and, by joining Race to Zero last year, has committed to achieving net zero carbon emissions by 2050. With partners including Airbus, Rolls-Royce, GKN Aerospace, Cranfield Aerospace Solutions and Wright Electric, easyJet is working to accelerate the development of zero carbon aircraft technology. In the meantime, easyJet continues to renew its fleet, operates efficiently and aims to fill most of its seats. Since 2000, over a 20-year period, the airline has reduced its carbon emissions per passenger per kilometer by more than a third, and aims to reduce them further.
Innovation is in easyJet's DNA – from its launch over 25 years ago, easyJet has changed the way people travel to today where the airline is at the forefront of the industry in digital, Web, technical and operational innovations to make travel easier and more affordable for its passengers.
This news content was set up by WebWire's editorial staff. Linking is allowed.
Press release distribution and press release distribution services provided by WebWire.