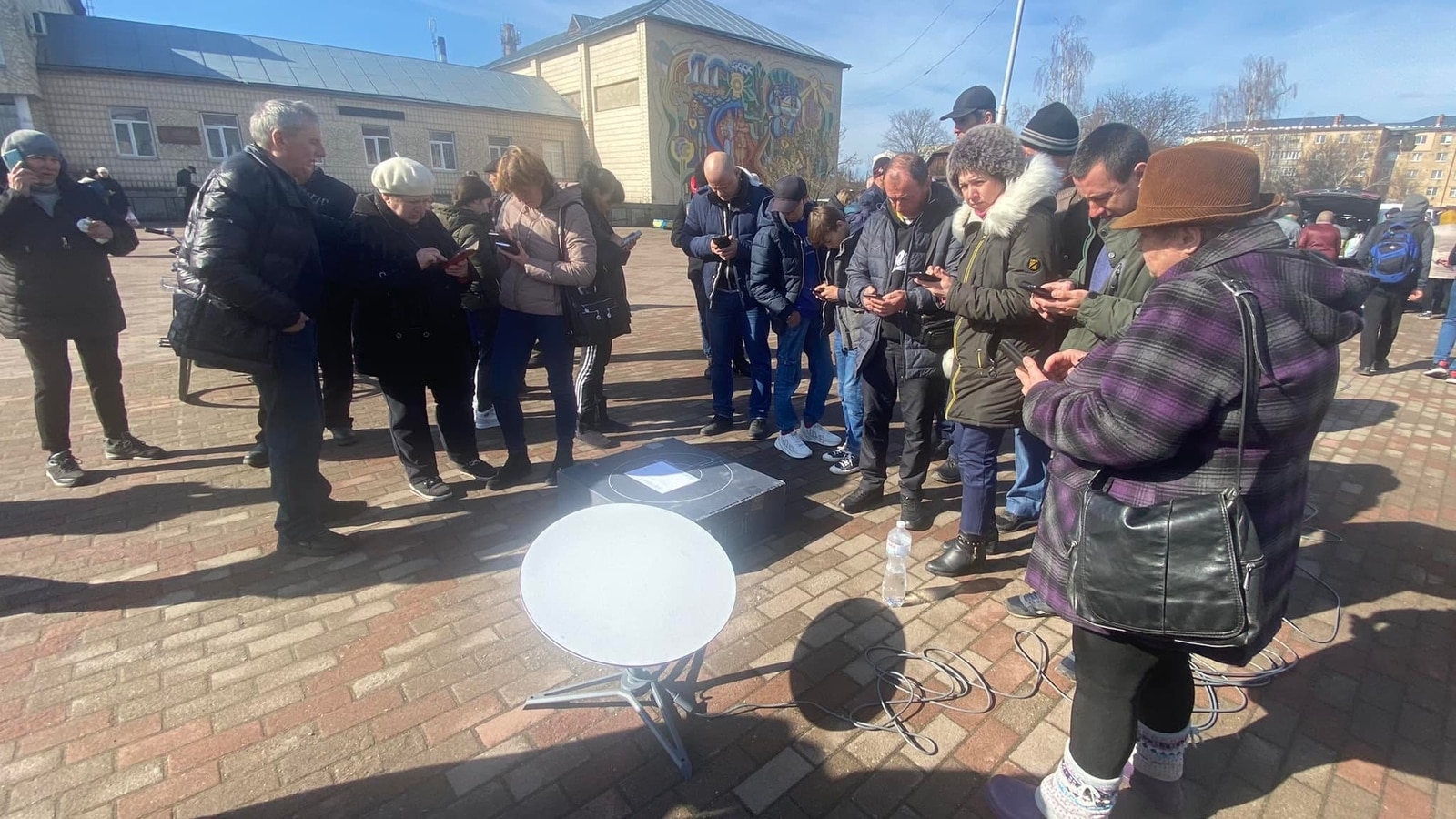 A Ukrainian journalist showed on Friday how SpaceX founder Elon Musk's decision to activate his Starlink service in the war-affected country is helping residents access the internet in remote villages. Kristina Berdynskykh shared an image of residents of a village in the Kyiv region, saying they were using their mobile phones to connect with loved ones for the first time since internet services were interrupted following the Russian invasion.
"Here is the power of Elon Musk! Residents of Ivankiv, who also lack electricity, mobile communications and internet, are connecting for the first time with loved ones thanks to Starlink and the volunteers who brought it to the city," the journalist wrote. .
SpaceX is deploying its Starlink constellation in low Earth orbit to provide high-speed internet access around the world, initially focusing on rural and underserved areas. The US aerospace company activated its Starlink service in Ukraine on February 26, days after a government minister urged Elon Musk to provide internet access.
"We were close to getting the approvals to offer services, but the documents weren't all signed off," SpaceX chief Gwynne Shotwell said during a roundtable last month in Washington. After the dispute started, "they tweeted my boss and it was permission to provide capabilities."
Earlier this week, the US Agency for International Development said it delivered 5,000 Starlink terminals to Ukraine in an effort to boost internet access for residents.
"The terminals will allow government officials and critical citizen service providers to continue communicating within Ukraine and with the outside world," even as Russia cuts other communications infrastructure in the country, the agency said in a statement. tuesday.
Close story
Sri Lanka's main opposition party to table no-confidence motion against Rajapaksa

Sri Lanka's main opposition party, Samagi Jana Balwegaya, has announced it will table a no-confidence motion against President Gotabaya Rajapaksa's government if it fails to deliver immediate aid to the island nation's people affected by the economic crisis. Premadasai Lanka Opposition Leader Sajith Premadasa said opposition MPs also discussed the end of the executive presidency and the sharing of power in Sri Lanka between the executive, legislature and judiciary .

I don't want my tax status to be a distraction for him: Rishi Sunak's wife

UK Finance Minister Rishi Sunak's wife Akshata Murthy has agreed that Akshata Murthy will not escape UK tax on her overseas income, Reuters reported. Akshata Murthy owns around 9% of Infosys, the IT giant founded by his father Narayana Murthy. While Sunak urged British companies not to do business in Russia, Infosys continued operations in Moscow. His spokesperson claimed earlier that there was nothing illegal about what Akshata Murthy was doing.

Pak leader opposes president's suggestion to address 'foreign conspiracy'

Pakistani opposition leader Shehbaz Sharif on Saturday opposed National Assembly Speaker Asad Qaiser's suggestion to take up the 'foreign conspiracy' theory during the session called to vote on a no-confidence motion against the Prime Minister Imran Khan Niazi. At the start of today's session, Qaiser said that "there should also be a discussion on the issue of the international conspiracy."

In the midst of great drama, the Pak assembly was adjourned; Imran Khan's vote of confidence today: 10 points

Imran Khan is bracing for a vote of confidence on Saturday after the Supreme Court, in an unprecedented ruling on Thursday, ruled the rejection of the no-confidence motion – submitted by the opposition in parliament on March 8 – 'unconstitutional' . It will be the second big test for Khan in a week after his first attempt to call new polls failed on Sunday.

'Now Imran Khan can divorce Bushra Bibi': Taslima Nasreen's joke amid turmoil

Bangladeshi author Taslima Nasreen said on Saturday that Imran Khan gave away his third wife and spiritual guide, Bushra Bibi, as he prepared to leave the prime minister's chair. Imran Khan married Bushra Bibi, also known as Punkt Peerni, in 2018 shortly after winning the election. Opposition parties have accused Bushra Bibi of practicing witchcraft. Before marrying Imran Khan, Bushra Bibi was married to Khawar Fari Maneka who was a government official.