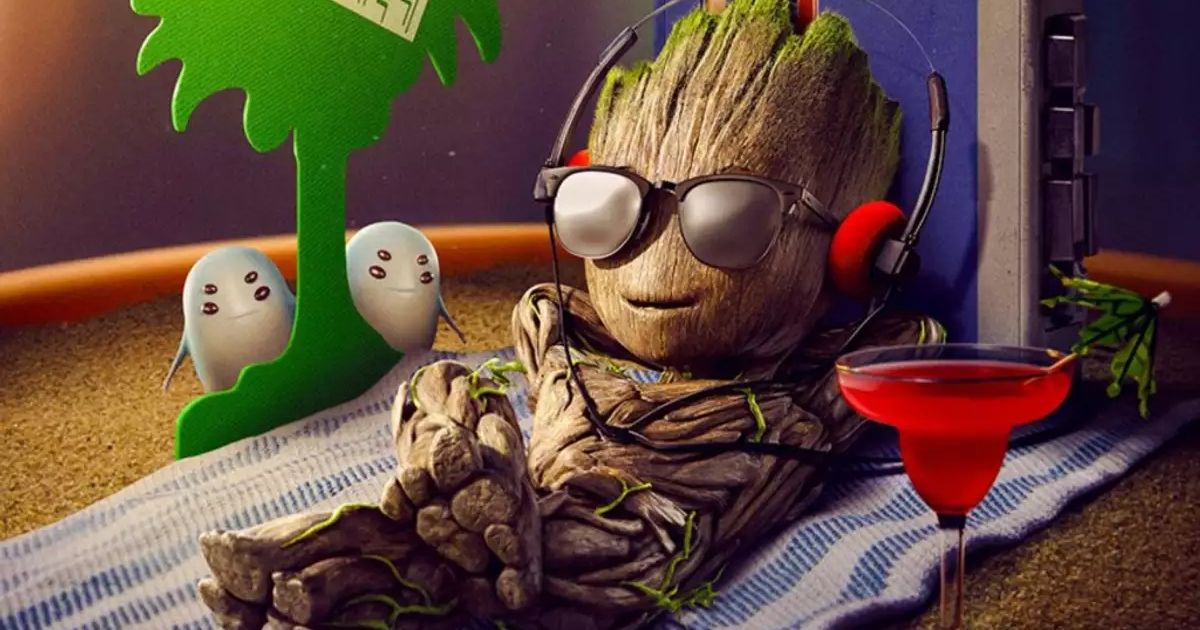 Disney+ continues to provide more expansion opportunities for the Marvel Cinematic Universe. With several series like Wanda Vision and Ms. Marvel streaming on the platform right now and tons of new projects on the way, Marvel fans are sure to keep seeing content popping up on Disney+ for years to come. The latest series to take place within the MCU is about Groot, the Talking Tree of guardians of the galaxyand the adventures he has as a baby.
Unlike other Marvel animated content, I am Groot takes place alongside The Infinity Saga in the main MCU timeline. Reprising his role as the voice of the principal Guardians movies is Vin Diesel as Baby Groot. Guardians Rocket (Bradley Cooper), a slightly wild and genetically modified raccoon, also returns to the screen in I am Groot. Rocket and Groot are buddies in the first guardians of the galaxy movie, and in Guardians of the Galaxy Vol. 2both seem to continue their strange and sometimes frustrating friendship.
I am Groot was created by Kirsten Lepore especially for Disney+. Each of the news episodes follows Baby Groot as he matures. He travels through the cosmos and embarks on adventures with strange and new personalities that often land him in hot water. Lepore noted in an interview with Disney Center that Baby Groot is "the child in all of us". There were scenes in Guardians movies where we know Groot has aged, but we never see how he goes from Baby Groot to Teenage Groot and that's what this new series hopes to show. So where does the I am Groot series fall in the MCU timeline, and what should you watch before you watch I am Groot?
I Am Groot's Place In The MCU Timeline, Explained
Ironically, only die-hard Marvel comics fans really know how deep Groot's roots run. Groot began in Marvel Comics, created by Stan Lee, as a villain who came to Earth to conquer, as noted by Screen Rant. He made his first appearance in 1960s comics, Tales to Astonish #13, as a member of a race of extremely tall tree-like people. In the comics, his size and strength were used to show him off as a gruesome beast, a Flora Colossi from Planet X. Marvel Studios obviously wanted something lighter in the guardians of the galaxy movies, so they changed Groot's personality and made him one of the most beloved characters in the MCU.
In the MCU, Groot sacrifices himself to protect his fellow Guardians in Guardians of the Galaxy, and then Rocket replanted part of Groot's body, which became Baby Groot. Then in Guardians of the Galaxy 2, we see Baby Groot taking on enemies and battling with his friends to the best of his abilities. He remains a baby all along the film, but in the end credits scene, we see that Groot has aged and acts more like a teenager than a baby. This means that whatever happens in I am Groot takes place in the time that we do not see between the end of Guardians of the Galaxy 2 and the end credits scene.
Related: James Gunn Reveals How Guardians Of The Galaxy Scripts Fit Groot's Dialogue
What You Need To Watch Before I'm Groot
Groot makes his first appearance in guardians of the galaxy like an adult humanoid tree. Groot is friends with Rocket when we first meet him, and eventually he becomes a member of the Guardians after agreeing to help Peter Quill/Starlord (Chris Pratt) after their arrest. Groot continues to fight alongside his fellow Guardians in Guardians of the Galaxy Vol. 2 as Baby Groot, again risking his life to save his friends. So if you want to watch the universe in order, you'll have to have watched both the Guardians movies before watching I am Groot.
A sassy teenage version of Groot also appears in both. Avengers: Infinity War and Avengers: Endgame when the Guardians team up with the Avengers to defeat Thanos. At the end of End of Game, Thor has joined the Guardians and bickers with Quill. Therefore, to get a full picture of who Groot is before watching I am Grootyou can watch the last two Avengers movies, but keep in mind that they take place after I am Groot.
Guardians, including Groot, also appear in a small bit of Thor: Love and Thunderwhich continues the story of Thor and tells us where the god of thunder goes next. Groot and the Guardians should also appear in the next Guardians of the Galaxy Vol. 3which is slated for a 2023 release date and will hopefully yield even more insight into who Groot really is.
Disney's Marvel catalog continues to grow and shows no signs of slowing down anytime soon. I am Groot looks like it's going to be the cutest Marvel series on Disney+. The best part about doing a series like this is that fans of all ages will get to see little baby Groot on his adventures. I am Groot premiered with five animated shorts on Disney+ on August 10, 2022.